Schedule of Events
Rice County Veterans Memorial Schedule
Memorial Paver Count is: 877 as of: February 25th, 2022.
Purchase a Paver for your Veteran(s). This is an everlasting tribute to their service and sacrifice. A paver certificate will be made available on this site with purchase. From the PAVERS tab above, select the Veteran's name.
For questions or more information contact Richard Cook at 507-210-8525
---
Rice County Veterans Memorial Dedication
Saturday, May 7th, 2022
1:00 PM – Ceremony at the Rice County Veterans Memorial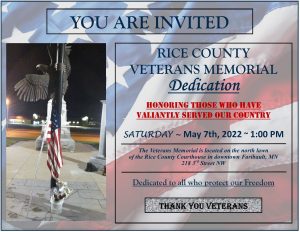 ---
Memorial Day 2022
Monday, May 30th, 2022
9:00 AM Ceremony at the Rice County Veterans Memorial
10:00 AM – Memorial Day Parade – Central Ave – Central Park
11:00 AM – Memorial Day Program – Central Park
12:00 AM – Luncheon at American Legion Post 43
1:00 PM – Shieldsville Veterans Memorial Ceremony
---
Veterans Day 2022
Thursday, November 11th, 2022
11:00 AM Ceremony at the Rice County Veterans Memorial
12:00 PM – Luncheon at American Legion Post 43
---
Recent additions to the Memorial include:
The addition of pavers ordered through October of 2021
Updated Paver Directory Book
Updated Eternal Flame Lighting
Current project status includes:
Memorial Dedication planning
Long-term maintenance/upkeep
If you would like to assist with helping to lay pavers or be involved with other aspects of the Memorial Expansion project, please leave your name/number at Faribault American Legion Post 43: "ATTN: LEGION COMMANDER"
Your Veterans Memorial continues to progress with additional pavers being added as the engraving is completed.
The Memorial Committee Thanks You for your continued support as we honor all Veterans.
Thank You for supporting the Rice County Veterans Memorial!